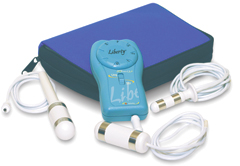 The Liberty® Pelvic Floor Stimulation (PFS) system can help you regain your freedom from urinary incontinence.
The Liberty® System Video

Liberty® utilizes advanced electrostimulation technology, providing you with effective therapy for stress, urge or mixed incontinence. The ergonomic design and

compact size mean your treatments will be both comfortable and discreet.


Patients find Liberty®
PFS Therapy to be:

Safe: Treatment is non-invasive (unlike surgery) and has no side effects (unlike medications).



Effective: Always exercises the correct muscles with no active patient participation. Studies show a majority of PFS patients are significantly improved or cured.